Going through a divorce or a separation can be trying times in your life, especially if children are involved. Here at Orcus law LLP, you can rely on our experienced lawyers to handle your case with extreme professionalism ensuring your interests are represented in court. Our comprehensive family law services are tailored to address your specific needs. We pride ourselves on providing our clients with a quality service at affordable rates. For further inquiries or to schedule a consultation, please do not hesitate to give us a call today. With our wealth of experience, you can count on our team of qualified lawyers to resolve issues on: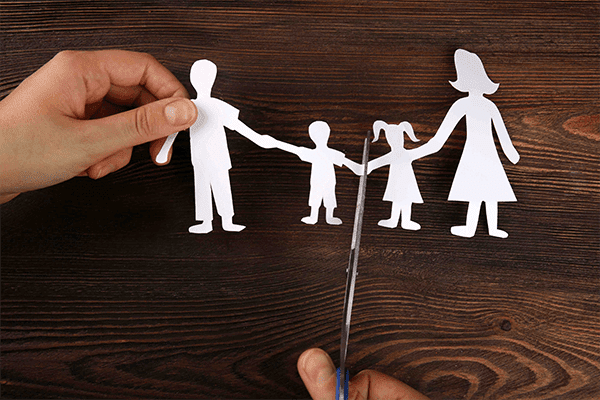 The legal process that a couple can terminate their marriage. At Orcus law LLP, our qualified divorce attorneys will guide you through the process making sure your interests are met.
According to law, "Separation" is the result of a breakdown in a relationship between two individuals who are in a romantic relationship with each other, and there is no chance for reconciliation. Couples can continue to live in the same household while being separated in an attempt to resolve issues, and deal with matters relating to division of property, child custody, child support and spousal support. If you are based in Mississauga and require a separation agreement, contact Orcus Law LLP today. Our friendly and highly experienced lawyers are well-versed with the process, and legal issues involved in drafting a legally valid separation agreement. Contact us today to book an appointment.
A 'prenup' is a contract or an agreement made between a couple before their marriage. This agreement outlines details about the couple's finances and other monetary claims in case of the breakdown of the relationship. A prenup can include the following items:
The term custody in the context of a separation or divorce, involves the right of a parent to make decisions that looks after the welfare of their children. Decisions like their child's education, religious upbringing, medical decisions, and decisions relating to a child's extra-curricular activity. Parents can agree to custody in the form of sole custody, or they can share the parenting responsibility in a joint custody scenario. If you are already separated or separating from your partner, give Orcus Law LLP a call today to speak with one of our child custody lawyers.
After divorce or separation, and once it is finalized which parent the child or children will reside in, the next step is a matter of child support. According to the Federal Child Support Guidelines table, if a child resides with one parent more than 60% of the time, he/she becomes the primary resident parent and recipient of child support. If the child/ren reside with both parents equally then the child support is split based on the income earned by either parent. The parent with the higher income pays a higher amount that the parent earning a lower income. To discuss your child support needs with our lawyers, schedule an appointment with Orcus Law LLP today.
Parties after divorce or separated with children need to decide where their children will live, and with which party. Depending on the welfare of the child or the best interests of the child, parties who have an amicable relationship with one another can come up with a mutual agreement or adhere to a decision ordered by the court. The courts will only consider what is best for your child in reaching such a decision. Choosing an appropriate parenting plan can be complex, give Orcus Law LLP a call today to schedule an initial consultation. We are committed to looking after your best interests. We are based in Mississauga.
There is nothing more precious than a child and the parent's relationship. As divorced or separated parents, you will need to be fully aware of your visitation rights. The court will consider what is in the best interests of the child in any child custody or access case, and we will also understand how to present our clients' cases in such a manner as to show how the child will benefit ensuring our clients achieve an ideal result. Parenting agreement rights may arise from:
EXERCISE YOUR RIGHTS, PROTECT YOUR RIGHTS!