Mediation and Arbitration
Conflict Resolution Services
Mediation and Arbitration
A mediation is a process of conflict resolution where the parties to the dispute meet with a neutral third party to resolve their issues and come to an amicable conclusion best suited for the matter at hand. The Canadian Bar Association defines mediation as "the intervention into a dispute or negotiation by an acceptable, impartial and neutral third party who has no decision-making power, to assist disputing parties in voluntarily reaching their own mutually acceptable settlement of issues in dispute."
The neutral third party is called a mediator. The mediator does not have the power to impose a settlement between the parties, whereas the presence of a mediator changes the dynamics of the strained relationship between the parties and assists in bringing them to a common foreground. Further, the mediator is unbiased and required to maintain the confidentiality of the matter discussed and the parties.
The main characteristics of a mediation are that it is voluntary, non-coercive, informal and assisted by a mediator. Mediations can be confidential and the parties (including the mediator and the lawyers) sign a mediation agreement with a confidentiality clause.
Mediations are cost and time effective. Another benefit of a mediation is that the parties can speak freely and discuss the matter in an amicable way to reach a settlement. If no conclusion is reached at a mediation, the parties may choose to terminate the process.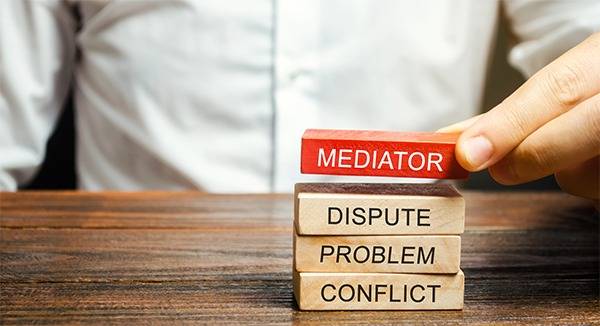 Where an amicable conclusion is reached during the mediation process, a mediation settlement agreement is signed by the parties concerned.
Canadian Bar Association, Task Force Report on ADR in Canada, 1989, 15. Business mediations generally deal with contractual disputes such as breach of contract, contract cancellation, performance of a contract, shareholder agreement dispute, partnership agreements, and franchise agreement.
This includes disputes between real estate agents/brokers and buyers and sellers such as purchase or sale agreements, or errors in the transaction.
Mediations between landlords and tenants typically include disputes over issues such as rent, rental agreements, or damage. Mediation may also take place over commercial tenancy disputes.
When there is a dispute over trade and construction work, it can be expensive and time consuming to go to court. Mediation can help both sides come to an agreeable settlement at a fraction of the cost.
Both governments and businesses have a duty to accommodate those who are differently abled. When they fail to do this, mediation can help both sides come to an agreement.
Workplace disputes can be complex and expensive if they go to court. Mediation can help solve issues between business owners, managers, supervisors and employees as well as between businesses and their customers and suppliers.
Mediation for professional liability includes disputes over services received from professionals such as doctors, lawyers, accountants and engineers.
Family & Divorce Mediation: An alternative to costly court battles.
Family mediation is a safe, private way to have difficult conversations in order to settle your family issues such as divorce and child custody. A mediation is the best way to understand the needs of the children of the marriage and settle the dispute amicably. Further, mediation saves the family money, manages assets, and saves people from emotional trauma.
What makes our family mediation process so effective?
In most cases, families don't really want to drag each other through a lengthy court battle, but they may not have the skills to speak to each other respectfully without the presence of a third party. There may simply be too many hurt feelings and mistrust for them to solve their issues on their own. Our family mediation process helps families come to a middle ground and settle in a way that is best for their family and mental welfare.
When you agree to family mediation, it does not mean you have to sit across from the other party if you don't want to. It is not even necessary to be in the same room. Our skilled mediators will work out a process that helps make everyone comfortable.
Our goal is to make sure that each party feels heard and empowered so that we can reach the best decision possible for all involved. Once a settlement is reached, we can draft a Mediation Summary Report, or in the case where both parties have their own lawyers, we can draft the appropriate contract (e.g. Separation Agreement).
We Look Out for Your Child's Best Interest
In family mediations that involve children, we are extremely diligent in ensuring your child's voice and views are heard.
When parents cannot agree about what is best for their children, our mediators ensure that both perspectives are noted and respected, but we will ask parents for their opinions on how best to capture the views of their children as well.
Options for including a child's view in a mediation process may include:
Mediation is an effective way of working out family disputes and determining what is in the best interests of the children. It allows children to share their views, without pressure or judgement and works to reach a settlement that is agreeable to all parties.
If you would like to try mediation to resolve your dispute and avoid a lengthy and costly court process, please call or email us today.
Testimonials
Ronald Lee
Simmi is amazing. She is professional, really know her stuff and was able to answer all my questions patiently.  I would not hesitate in recommending her.
Amrit Kalia
Excellent services provided by Orcus Law LLP. Simmi is very knowledgeable and knows how to deal with the situation. One can totally rely on them. Highly recommended!
Shilpa Sharma
Excellent services… I would recommend her. She is a great lawyer.
Varun Mahajan
I have not seen more professionalism than working with Orcus Law LLP….. Special mention about Ms Simmi Kapoor who was handing our litigation cases. She guided us through the whole process in such a way that we could come out of our situation in the most simplified way. I would highly recommend Ms. Kapoor and the whole team at Orcus Law LLP. One best thing about them is that they are so easy to approach and don't keep you waiting for the replies unlike some other law firms.
jigon v
Highly recommended the Orcus Law LLP to deal the litigation cases. Appreciate Simmi and her staff's dedication and professionalism.
Sreehari Dhananjayan
I came to know Orcus Law LLP thru my friend. Simmi handled our case and she was very professional and straight forward. She knows what exactly needs to be done and explained process clearly. The entire process was smooth and the case got resolved last week. Her team member Mehak also did a great job with constant follow ups. I was really happy with her service and would definitely recommend to others.
Ilsa Faqar
Simmi is very knowledgeable and amazing… She is professional, knows her stuff and knows how to handle the situation…. very competent and reliable. She was very helpful and responsive to all my questions and concerns… When we found issues during the walk through, she negotiated on our behalf and was there when needed…."Overall, it was a pleasant" "I would highly recommend her." If you decide have a litigation just go to "Orcus Law LLP" office, talk to "Simmi" and you will never regret it!
EXERCISE YOUR RIGHTS, PROTECT YOUR RIGHTS!