Trusted real estate litigation lawyers in Mississauga
There are several reasons why disputes can arise in relation to real estate transactions. For instance, you can be part of an agreement where the other party does not follow up with their obligations as mentioned in the agreement. In such cases, a real estate litigation lawyer can help you resolve real estate disputes.
As mentioned above, real estate disputes have different forms. If you purchased a property and later found out it had defects, and it was mentioned in the purchase agreement, the other party has the legal right to take action. These disputes are commonly referred to as real estate litigation when they are taken up in court for resolution.
In a real estate transaction, all parties will sign an agreement that lays down the terms and conditions. If either party fails to honour their end of the agreement, the other party can sue. If you require reliable real estate litigation in Mississauga, please do not hesitate to contact the team at Orcus Law today.
Helping you get the desired result in real estate legal situations
If a buyer fails or refuses to close the deal, the seller can choose to forfeit the deposit or claim damages. In order for the seller to claim damages, they will need to re-sell the property and present to the court how much loss they have incurred.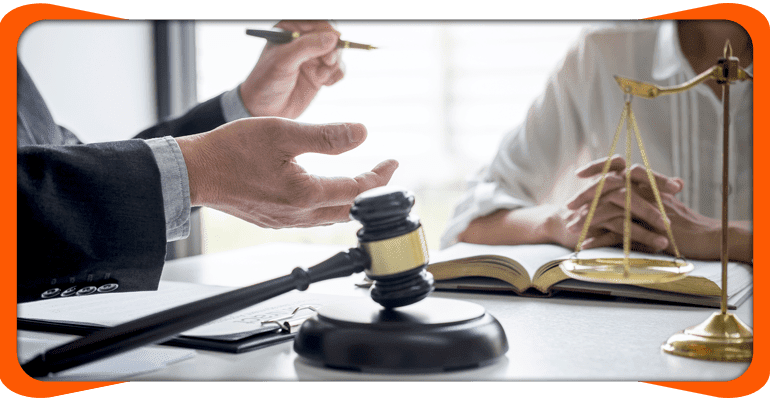 If the seller refuses to close the deal, the buyer will need to submit proof of the actual damages incurred. This is done by getting an expert report to show how much the property has increased in value. Additionally, the buyer will not be able to claim further losses that rise from refusal to close because of storage fees, moving costs, or temporary housing costs.
Various situations like a breach of contract, title disputes, power of sale, property law issues, or even foreclosure issues are some of the common real estate litigation disputes. For more information, contact our legal team today.
Mississauga lawyers providing first-class representation in real estate litigation
The purchase and sale of real estate involve large sums of money, and often at times, these transactions represent the largest expense for any person, business, or family. In the case of residential transactions, people are closing more than one deal at a time, and are solely depending on one sale transaction to finance the other. While a majority of transactions close without any issue, there may be one instance where one party fails to close a purchase or sale as detailed in the agreement of purchase and sale. Other real estate disputes can arise from leasing property, liens or other encumbrances. When a large property is at stake, it is important to secure the advice of a professional lawyer who has a deep understanding of the intricacies of real estate law.
The real estate litigators at Orcus Law are skilled and knowledgeable about all real estate matters. We represent clients on a wide variety of issues from purchase and sale to litigation and negotiation. You can rest assured; that our lawyers will take a look at your matter and ensure you are well aware of your rights and obligations. We will represent your interests in any real estate dispute.
Common real estate litigation matters in Mississauga
As mentioned earlier, several issues may require dispute resolution or litigation to resolve with respect to real estate, including:
 Default under an agreement of purchase and sale
 Commercial lease disputes
 Title and zoning issues
 Mortgage Enforcement
 Real estate development
 Construction disputes
Here at Orcus Law, we completely understand the intricate nature of such disputes and work hard towards reaching the desired outcome for you. Our knowledgeable lawyers will support and guide you through every step of the complicated real estate landscape.
Why choose Orcus Law for real estate litigation in Mississauga?
We review and prepare legal documents such as purchase agreements, mortgage and title documents, including transfer documents.
Finish title searches on the property
Settle issues in relation to real estate in a fair and transparent manner
Provide first-class legal representation for either buyer or seller in the courtroom
Making sure you understand your legal rights and obligations
The real estate industry in Mississauga is inconsistent for individuals and businesses. It is crucial that you know your legal rights and obligations in the real estate field. Even though it is a happy moment when buying or selling property, it still needs to be negotiated well for the deal to be successful. It takes a lot of time, skill, and knowledge. The lawyers at Orcus Law will be with you every step of the way ensuring your goals and objectives are met and exceeded. Our lawyers take pride in knowing that they have successfully defended clients in several real estate projects. Call today to schedule an appointment.
Bringing creative structures to highly complex real estate transactions
Buying a house is a major life-changing decision. Our real estate litigation lawyers at Orcus Law are highly trained to deal with issues arising from real estate, including having the skills and knowledge to efficiently deal with them. We have represented some of the most notable individuals and businesses and have built a successful portfolio in recent years. Furthermore, our lawyers are recognized for their attention to detail and cost-effective results. To find out more details, talk with our team today.
Contact Orcus Law in Mississauga for proficient advocacy in Real Estate Litigation disputes
The litigation lawyers at Orcus Law in Mississauga are a reliable resource for representation on several real estate litigation issues. We provide practical advice and first-class representation in both litigation and alternative dispute resolution options. If you are facing a real estate issue and you'd like to discuss it with one of our lawyers, please consult with our team today.