Mississauga Property Disputes
When one of the parties to a contract doesn't fulfill their end of the bargain, that party has violated the terms of the agreement. Because contract violations occur frequently, a substantial body of law has developed to settle the resulting disagreements.

The main objective of contract law is to restore the injured party to the same financial position that they would have been in if there had been no breach of the agreement. Therefore, financial damages are the only accessible default remedy for a breach of contract.

In most circumstances, these damages are constrained to what is specified in the contract, and courts rarely grant punitive damages for contract violations, unlike when damages are awarded in tort proceedings.

Liquidated damages clauses can be used by parties who want to avoid using the aforementioned remedies in their contracts. These clauses predetermine the amount of compensation that a party in breach must pay and save the costly and time-consuming process of calculating the real harm that the breach has caused. Although liquidated damages clauses are frequently permitted, a court may reject one if it seems to be substituting punitive damages or if the clause's contents are unreasonable.

A lot could be on the line if you've been named in a lawsuit alleging a breach of contract or you think another party has broken a contract with your business. It is advised to speak with an expert attorney like Orcus Law LLP to go through your alternatives before selecting how to handle your property conflict. Our property dispute lawyers in Mississauga may advise you on the benefits and drawbacks of bringing a claim for breach of contract while also weighing your alternative options.
RECTIFICATION OF TITLE ISSUES
With decades work expertise, our litigation staff has run into a variety of issues with property ownership, including:
If not resolved properly, these issues might entirely halt a sale and jeopardize any future sales you may have. Orcus Law LLP can provide you with knowledgeable counsel at the outset along with a reasonable time frame and price estimate.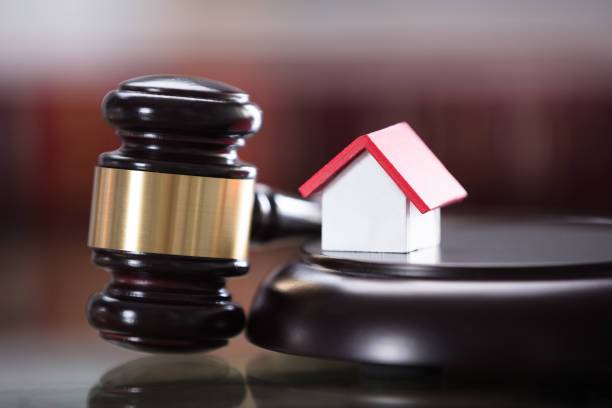 CERTIFICATES OF PENDING LITIGATION
A crucial legal tool is a Certificate of Pending Litigation (CPL). It is typically used to bind a property when one party asserts an interest in it even though they are not the possessor in possession. The situations when a buyer has a contract but hasn't finalized on a property are the most typical examples of an undeclared interest in land.
A CPL is intended to inform or warn members of the public that a property dispute is ongoing regarding a particular piece of property and that they should exercise caution when lending money against it, purchasing it, or taking any other action related to it.
Call our team of attorneys at Orcus Law- a professional corporation if you are associated in a real property litigation dispute and are unclear if you may file a motion to register CPL. We can provide you with knowledgeable legal counsel.
To guarantee that a mortgage agreement's conditions are honored, mortgage enforcement is a type of real estate law. Mortgages have become commonplace in modern society, both financially and socially. Mortgages would stop being the main engine of our economy if it weren't for mortgage enforcement laws.
When a mortgagor (borrower) violates the conditions of a contract with a mortgagee, mortgage enforcement is activated. To ensure that the lender's interests are safeguarded in the case of a default, various procedures regarding enforcement are in place.
Before pursuing any legal action, seeking legal advice is a viable alternative. You can examine your future actions and determine what needs to be done with the assistance of legal counsel. Contact Orcus Law LLP lawyers immediately if you want to take enforcement action against a mortgage. To ensure that your rights are upheld, you can rely on the assistance of our civil litigation attorney team.
When a borrower defaults on a loan, a power of sale clause in the contract enables the lender to seize possession of the property and sell it. As a result of the clause, which frequently permits lenders to forego judicial review by the court, the foreclosure process is frequently expedited.
Power of sale is not permitted in all states, but many do. If you're in danger of defaulting on a home mortgage, knowing what power of sale implies for that specific mortgage loan might help you weigh your options.
For example, a power of sale and a legal authority to redemption may coexist, giving a homeowner the chance to prevent foreclosure by paying the loan balance and any associated fees.
We are here to study your cases and provide you with the appropriate legal solutions to them!
A home is considered to be in foreclosure when a homeowner stops making payments on a loan used to buy it. The title of the home finally passes from the tenant to the bank or lender who supplied the loan. When a homeowner falls behind on their mortgage loan payments, a foreclosure will take place. The lack of mortgage payments is typically caused by an unanticipated decline in funds or a change in the owner's circumstances. There are countless factors that could lead to a property going into foreclosure, including:
Any legal concerns affecting your organization can be resolved with assistance from our property dispute and real property litigation law professionals. Call us right now or send us a message online to schedule your free consultation with property dispute lawyers in Mississauga. Orcus Law LLP provides advice on a broad range of property dispute themes and problems.
Testimonials
Ronald Lee
Simmi is amazing. She is professional, really know her stuff and was able to answer all my questions patiently.  I would not hesitate in recommending her.
Amrit Kalia
Excellent services provided by Orcus Law LLP. Simmi is very knowledgeable and knows how to deal with the situation. One can totally rely on them. Highly recommended!
Shilpa Sharma
Excellent services… I would recommend her. She is a great lawyer.
Varun Mahajan
I have not seen more professionalism than working with Orcus Law LLP….. Special mention about Ms Simmi Kapoor who was handing our litigation cases. She guided us through the whole process in such a way that we could come out of our situation in the most simplified way. I would highly recommend Ms. Kapoor and the whole team at Orcus Law LLP. One best thing about them is that they are so easy to approach and don't keep you waiting for the replies unlike some other law firms.
jigon v
Highly recommended the Orcus Law LLP to deal the litigation cases. Appreciate Simmi and her staff's dedication and professionalism.
Sreehari Dhananjayan
I came to know Orcus Law LLP thru my friend. Simmi handled our case and she was very professional and straight forward. She knows what exactly needs to be done and explained process clearly. The entire process was smooth and the case got resolved last week. Her team member Mehak also did a great job with constant follow ups. I was really happy with her service and would definitely recommend to others.
Ilsa Faqar
Simmi is very knowledgeable and amazing… She is professional, knows her stuff and knows how to handle the situation…. very competent and reliable. She was very helpful and responsive to all my questions and concerns… When we found issues during the walk through, she negotiated on our behalf and was there when needed…."Overall, it was a pleasant" "I would highly recommend her." If you decide have a litigation just go to "Orcus Law LLP" office, talk to "Simmi" and you will never regret it!
EXERCISE YOUR RIGHTS, PROTECT YOUR RIGHTS!